Colombia
The fastest-growing digital country in Latin America
Offer customized solutions for Colombia.
A market of connectivity and innovation
Colombia is advancing in Open Banking, adopting instant payment methods, and opening companies and businesses.
US$
0,73
Bi
Estimated revenue until 2027
[source: Statista]
46,3
%
Of the population made
sports bets last year
1,2
M
Colombian users
forecast until 2027
Selling in Colombia is easier with Smart
24/7 Support
An available and dedicated team 24 hours a day, committed to providing the best payment experience
Security
We have advanced encryption, SSL certificate, and GOOGLE approval. With Smart, your transactions are secure
Higher conversion rate
Our API simplifies payment journeys, provides a better experience, eliminates friction, and increases the conversion rate
Discover Colombia's payment methods
Transfiya: Immediate Value Transfer
System from ACH Colombia, institution that controls and monitors all financial banking activities in the country and the fintech Minka.
Practical, fast, accessible, Transfiya works 24 hours, every day, including holidays.
Allows companies to send or receive payments instantly.
18 financial institutions are already linked to Transfiya.
To make a transfer, just provide the cell phone number linked to the receiving account.
Immediate release with SmartFastPay API.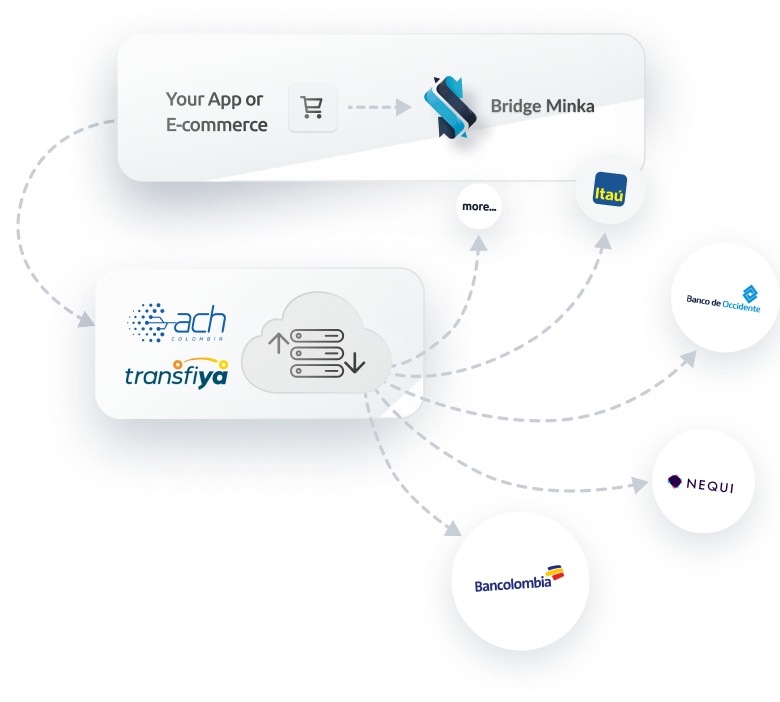 Offer local payment methods and increase your conversion rate in Colombia
Explore the Brazilian market
From PIX to Boleto, we cover all territories of Brazil and offer the most used payment methods by Brazilians.
Top questions answered
FAQ Portal
What does SmartFastPay do?

SmartFastPay Technology and Services is a Brazilian company that offers local payment methods for national or international websites. We process payments in local currency or market-specific solutions. To use our services, you must be registered on the partner Sites to whom we offer the services.




As SmartFastPay is a payment and technology company, we do not have the autonomy to cancel and/or decide any internal processes of our partners. Therefore, all information about delivery, tracking, refunds, and other details of your purchase should be requested directly from your shopping site.
How long does it take to confirm my payment?

The payment processing time may vary according to the payment method used.




We do not have autonomy over the processing time since we depend on the settlement/confirmation of the bank. When we receive the payment confirmation from the bank, the transaction is automatically approved, and the credit is sent to the purchase site.




If the indicated processing time has exceeded the expected period, we ask that you contact the purchase site sending the payment voucher.




PIX: Instantaneous or up to 11 minutes

Traditional Boleto: Between 24h to 72h
Credit Card: Instantaneous
Debit Card: Instantaneous
TED Bank Transfer: If made within business hours, TED transfers can take up to 2 hours to be identified by the receiving bank and compensated in your contact's account. However, if transfers are made outside business hours or on weekends, they will be scheduled for the next business day.
DOC Bank Transfer: an option for transfers from one bank to another, when performed until 9:59 PM on a business day, the operation is compensated on the next business day. After this time and on weekends and holidays, the credit only occurs on the second business day.

Didn't find your question?
Subscribe to receive Smart updates